Natania Thomas – Artist, Musician and Printmaker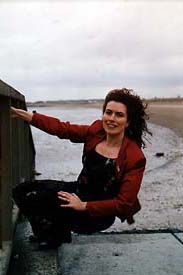 "Pulling Punches" – Solo Show at Wolfson Court (part of Girton College, Cambridge). Friday 20th to Sunday 22nd April 2012.
As a musician and practising artist, her work explores the creative fusion of music and art. This is particularly true of her current work. This is inspired by the ancient and iconic folk-theatrical figures of "Punch and Judy". "Pulling Punches" is a gritty yet satirical exploration of "politically correct" censorship that the Punch and Judy show has undergone in recent years in the West. Punch's gratuitously violent humour has been largely sanitised and subdued for the benefit of modern young audiences. Yet the modern counterparts of earlier audiences who previously might have gained vicarious enjoyment perhaps, from Punch's anarchic exploits, have free access to violent video games. They are encouraged by their peers to loot and destroy in street riots, and bully or intimidate in gangs. Their outlet for violence is real, whereas the Punch's original depravities were enacted for us in theatre, by lifeless puppets. This may have helped those audiences of yesteryear navigate reality with harmless make believe, possibly curbingcriminal potentialities on a deeper psychological level. This has been studied widely by Freud, Jung and notably, Bettelheim.

It is this exhibition, Punch is confronting a completely new threat and one for which he has never been prepared. He now finds himself being punished, banished and defeated by his former victims. He finds a "Survival Guide" and we are invited on a visual journey with him to discover his "coping mechanisms". As to who is surviving whom, however and what finally emerges as "right" or "wrong" is left to the beholder to decide. The private view and show will include "insights" from "Judy" who becomes a totemic "sacred feminine". Her musical interludes, personified by a singer in largely improvised vocalline, forms a foil to the garish Punch adding comment to the story of her own.

Natania is very influenced by the expressionist works of Edvard Munch and Kandinsky. Drawn in particular to Kandinsky's earlier prints, she uses woodcuts with carefully mixed inks to create a luminous, sometimestransparent effect. She uses digital techniques for her composite work, which refer to Kandinsky's use of the stencilled effects he achieved on his own woodcuts. Natania, like Kandinsky, is fascinated by the influence of folk-history on art of which the story of Punch, (Petrushka in Russia or Pulcinella in Italy) forms a key character from antiquity.

Currently, Natania is studying for her Printmaking MA at Anglia Ruskin University.

"Pulling Punches" will be shown at Wolfson Court, Clarkson Road, Cambridge; Free, onsite parking. Refreshments at Private View only.


Friday 20th April 14:00 – 17:30
Saturday 21st April 10:00 – 21:00 (private view; 19:00 – 21:00).
Notified access only, please advise of attendance before 19th April to pulling_punches@yahoo.co.uk with "Punch attendee" and your full name in the title of your email. Any further attendees and full number expected in your party should be noted inyour email. Note that access may be denied to the Private View without prior notification and return confirmation of your place by the organisers.
Sunday 22nd 10:00 12:00 (midday).


Some examples of her work can be also be found at http://natania-art.blogspot.com and group blog spot http://printmakersma.blogspot.com/


This is protected by Copyright to Natania Thomas all rights reserved 1999. Music, and lyrics by Natania, performed by Natania, George Norris and Tom Ling. Click here to listen.